Are you experiencing keyboard issues? Perhaps a few of the keys aren't functioning properly, or perhaps you simply want to check that everything is in working condition.
Whatever your concern is, the keyboard Tester is the most effective approach to evaluate your keyboard. You may test every key on the keyboard with this convenient tool, which just takes input and shows result here.
| Shortest Key Press | Estimated Scan Rate |
| --- | --- |
| press any key | press any key |
Key press history
Checking the keyboard on your computer requires more than just making sure the keys function. Typing a few lines on word processor won't tell you anything; even if all your keyboard's keys function properly, there might still be a hidden problem with the device driver.
You must use Device Manager hardware management system or one of the keyboard tests to effectively test the keyboard on your computer. Whether you are window user or mac the keyboard may act up but you can always find a way and test it.
Why should you use the online keyboard tester? To convince you and tell you some of the reasons I'll go into further detail below.
What Is Keyboard Tester?
An online tool called a keyboard tester enables users to check the functionality of their keyboard keys. All the keys of the keyboard, such as the function keys, alphanumeric keys, and special keys, are tested by the keyboard tester.
All keystrokes are also tested by the this tester, allowing users to gauge their typing speed. For those people who must use the keyboard frequently and want to make sure their keys are functioning properly, a keyboard tester is an excellent tool.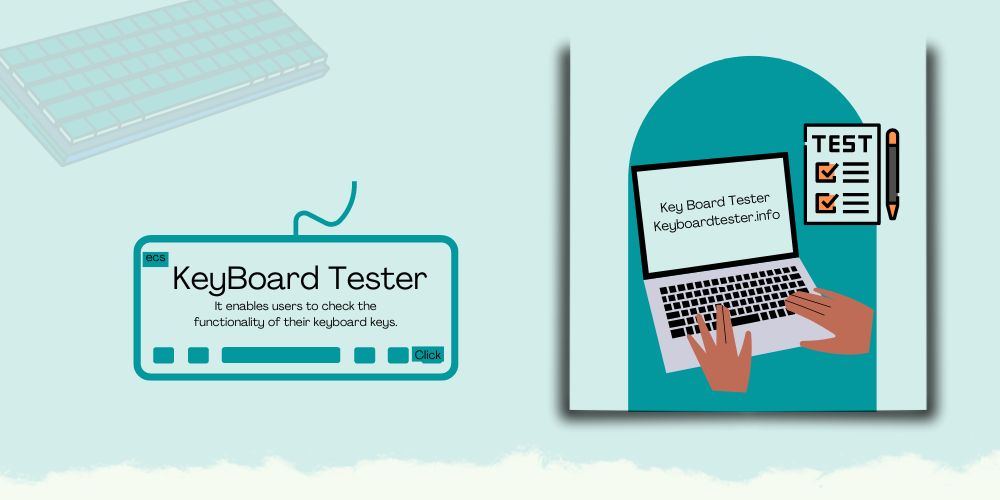 Additionally, a keyboard test for unique keys like Num lock, Caps Lock, Scroll Lock etc is included. This tester can assist you in determining the cause of any keyboard issues and fixing them.
Do you want to speed up your typing on Keyboard? Check Out WPM Test!
Features Of Keyboard Tester
Quick and Easy
The tool's response time and test results accuracy are priorities. You don't need to install any apps to use it. You can simply use it while relaxing on your browser. Furthermore, no plug-ins are required to use the program.
Privacy Secured 
It is a completely secure and private keyboard testing method that doesn't record your typing history. Moreover, no input history will be shared.
Use it For Free
A great platform that allows you to test your keyboard's performance without paying anything is called Keyboard Tester. Use the online testing tool to evaluate a laptop, wireless, or PC keyboard. Additionally, there aren't any pop-ups or advertising.
How do you know if you have a bad keyboard?
A few of the following signs of a defective keyboard include:
Incorrect operation of one or maybe more keys.
Rather than typing the pushed keys, the keyboard displays shortcuts.
To type, users must press a few keys firmly.
The system types the same character or a keyboard key stuck A keyboard types the incorrect letters.
How Do You Test If a Keyboard Key Is Working?
Check to see if the displayed Keypad is functional first.
Select the Ease of Accessibility logo when you're on the login screen.
Check the box next to Type without a keyboard.
Use your mouse to click on the on-screen keyboard to make sure all the keys are functioning properly.
How to Test Keyboard by Using an Online Keyboard Tester
Using this technique, you may test your complete keyboard. Proceed by pushing each key one at a time on any key board tester.
A key will glow in different colors (depending on the testing tool you are using) when it has been registered. You must replace any broken keys that do not change color when pressed. However, you might not be able to try out key combinations depending on the online tester you're choosing.
Use another virtual keyboard tool to accurately verify the key combinations.
How to Do Online Keyboard Test?
Test the keys on the online keyboard to see if they lit up after pressing them on the physical keyboard.
To delete any current text and retest the keyboard's keys for functionality, press the "reset" button.
Attempt to concurrently press many keyboard keys to see whether any of them may be used.
If each time you press, the online keyboard tester show reacts right away. Your keyboard is operating as it should. If they don't or only partially react, there should be some keyboard mistakes.
Who should you use online keyboard testers?
Virtually all online keyboard testing programs are suitable for a wide range of laptop models and operating systems. Those who have a strong internet access may therefore test their keyboard online. Anyone may test their keyboard online, regardless of whether they are a gamer, data entry worker, or author. Additionally, if you wish to examine your inventory of several keyboards prior to deployment, such software programs are a huge help.
The testing design is also based on a typical keyboard. You can therefore examine 95% or more of the keys on the keyboard.
Additionally, these programs function well with PS2 or USB-connected additional keyboards as well as the laptop keyboard.
The additional benefits of this tester are:
Save Your Effort, Time, And Money
Online keyboard testers let you save effort, time, money, all at once. You will not feel need to go to any hardware store to fix your keypad because you have access to this tool online. You may simply test your keyboard's operation while at home in the convenience of your own house, saving you money, effort, and time.
Users now have an easier time figuring out what's wrong with the keys that are malfunctioning. Start an online test while remaining at house. If the issue continues, we advise you to see the nearby expert and speak with him.
It's Flexible
This tester is useful in addition since it gives the user flexibility. Nowadays, practically everyone needs a keyboard, whether they are steno typists or gamers. A steno typist just utilizes the alphabet keys, a gamer just uses the indicator keys, while a programmer uses all types of keys.
The key testers are a convenient way for users to check whether their keyboards are functioning properly without needing any software or paying any money. Anyone who uses a keyboard requires all the keys to function.
Simple and Easy to Use
The procedure for testing the keyboard's operation is rather simple. All that's required is a keyboard, either one that comes with the laptop or a different one. You only need to open the keyboard testing webpage to view the keyboard on the display. To test whether a key on your keyboard is functional, press it one at a time.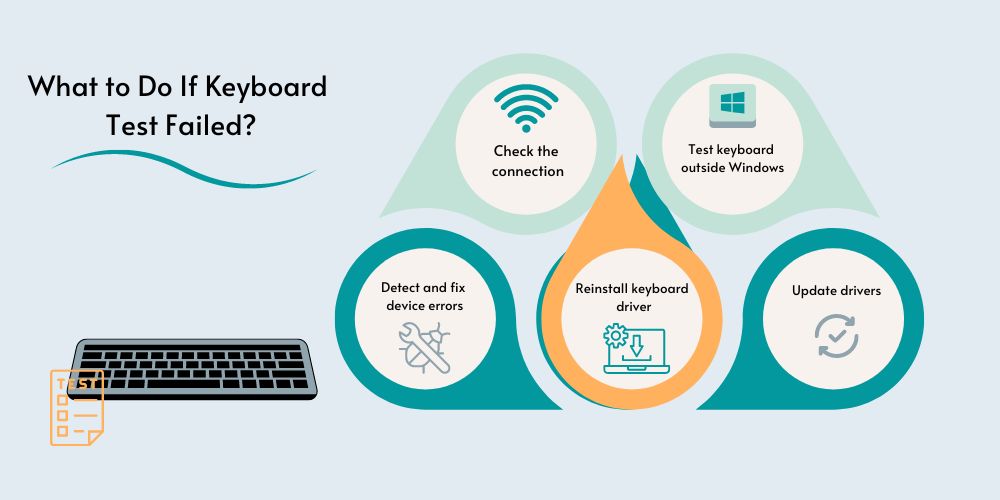 How to install a keyboard tester?
You only need to go to the tool's official webpage and from there install the EXE file to set up a keyboard tester. If the tool is contained in a ZIP file, you must first extract the file before running the EXE file. After running the keyboard tester tool's EXE file, just complete the installation procedures.
You can also get portable keyboard testing tools and then use them right away without installing anything.
Laptop Keyboard Tester
You can test the laptop's keyboard with Keyboard Tester to see if it functions properly. The function frequently prevents the keys from functioning. Online Keyboard Test can be used to help us understand our misunderstanding when we mistake sticky keys with keypad difficulties.
In essence, the Keyboard tester aids in identifying the issue's root. Use the Tester once before assuming that the keyboard is broken, and you need to buy a new one. It prevents you from making an unwise purchase and helps you save money for any additional costs involved in resolving the computer's underlying mechanical problems.
How helpful is Laptop keyboard tester 
Absolutely, this instrument is highly useful. As we discuss keyboards, it should be noted that they are inexpensive and simple to replace. They are durable and designed for heavy use, nevertheless. However, when it comes to notebook keyboards, this gadget becomes a fantastic choice if you want to be extra careful. Without a question, laptops are more expensive than desktops.
Additionally, the laptop's keyboard is fixed to the device's frame. If the laptop's keyboard isn't of high quality and you use it frequently for typing tasks, it could become damaged. When a laptop keyboard is damaged, having to repair it might be expensive. A laptop's replaceable keyboard is more expensive than a desktop.
Tools such as keyboard tester are useful in this situation. You must use this tool to evaluate the keyboard's functionality before purchasing any laptop. This will assist you in choosing wisely before making a purchase.
But you can also assess the keyboard's performance on your own.
Validate Your Mechanical Keyboard Through PC Keyboard Tester
A mechanical keypad tester can easily test a computer's keyboard, also referred as a mechanical keyboard. The computer keyboard's keys are examined using the same procedure. It might be referred to as a PC keyboard tester or mechanical keyboard tester. The notebook tester allows users to test every key, including the shift key, space key, enter key, and counting keys.
You can examine the keyboard's keys to determine if it is functioning properly while purchasing, in addition to worn-out keyboards.
How to test a key on my keyboard?
With the aid of certain free keyboard examining tools, testing a key on your keypad is simple. You can use the portable keyboard testers if you don't want to download any third-party program on your computer. Alternately, you can check your keyboard online.
You can evaluate the performance of your keyboard for free using the many websites that provide free keyboard tester software. However, you'll need a working internet connection for this.
How to Fix a Faulty keyboard?
Use the virtual key tester online on testing websites to locate the problematic keys before continuing with the methods listed below.
If the keyboard is covered with dust, flip it over and tap it lightly to get the dust out. To remove the dirt, you can either use an air cleaner or a blower.
If you spill cola or coffee on it, you need to have it looked at by a technical expert or even purchase a new one.
In the event of a not responsive issue, double-check the keyboard and desktop connectivity. Try another plug if there's nothing wrong with it, and if it doesn't work either, look for twisted or bent ports because these might be the source of the connection being unstable and the non-responding issue.
If the keyboard layout has been modified, go to the keyboard settings and switch to QWERTY formatting since it is a common layout.
Visit the company's website, download the most recent version of the affected program, install it, and again start your system.
What to Do If Keyboard Test Failed?
Check the connection
To check if the keys on keyboard can function properly, unplug, and remove it from your desktop, then plug it again into either the same or a different USB port. What if you were testing the wireless keyboard and it didn't pass? No problems, just make sure that each wireless connection, keyboard battery, Bluetooth connection, and power supply are correctly set or activated.
Test keyboard outside Windows
Occasionally, a software bug causes you to fail the keyboard testing on certain keys (such as Num Lock, Caps Lock, or Scroll Lock). Check to see whether your keyboard keys are functioning properly by restarting your desktop in Safe Mode and uninstalling any newly installed programs.
Detect and fix device errors
Secondly, you can verify if your keyboard item is faulty by running a troubleshoot using Windows' built-in Device Manager. User can also use the Windows built-in Device Manager to examine your keyboard's problem as well as diagnose and fix hardware problems.
To make things simpler, you can install a program called Driver Booster that will help you find technical errors and, more significantly, fix them by employing one of its useful functions, "Fix Device Error."
Reinstall keyboard driver
Keyboard issues will be caused by outdated or mismatched drivers, so be sure to obtain the most recent driver and upgrade the software frequently. Install Driver Booster to automatically update all your drivers to the most recent version and to quickly and easily resolve Windows system problems.
Update drivers
The driver component may also be to blame for the keyboard's malfunction. You can attempt to update drivers to solve this time. Use Smart Game Booster to upgrade all of your Computer drivers with 1-click or Microsoft Update.
FAQ'S:
How can I test my keyboard?
Visit the device management first. Right-clicking there will enlarge the list of the computer's keyboards. To check the keyboard on the computer, choose "Scan for Hardware Changes" after that. As an alternative, you can test the Keyboard online using the keyboard tester tool.
How do I test a used keyboard?
Open any online keyboard tester and begin hitting each key individually.
A recognized key will change to green or blue. You will need to replace any defective keys that do not change color when pressed. The online tester that you're utilizing can prevent you from testing key combinations, though.
How do I test F2 key?
Press F2 to launch the program that employs the key. A supplementary function of the F2 key is indicated if it also has a symbol on it. Press and hold the Fn key while simultaneously pressing and holding the F2 key to activate the secondary function.
How do I test my Apple keyboard?
Using a web application or a Mac desktop application, you may check an Apple or MacBook keyboard. The decision is yours. We advise utilizing Keyboard Checker if you want to check the keyboard via a web application.
Why do I need to test my keyboard?
You must have observed that your keyboard's specific keys might be giving you trouble. Perhaps you are unable to determine whether the problem is with the software or hardware you are utilizing. This is where online free Keyboard Tester can be of use. You can use it to see if each of your keys is functional.
How much time does it need to test the keyboard?
It does not take time to test your keyboard as results are shown instantly. Keyboard checkers immediately show if a key was pushed or not after you tap on the key you wish to test. It also includes the key's specification. As a result, testing your keyboard is quick and easy.
Conclusion On Keyboard Tester
The keyboard tester online tool is helpful for evaluating a keyboard's productivity. Your typing efficiency and productivity can be affected by a broken or damaged keyboard. The keyboard must function adequately for a typist to fulfil daily needs.
Therefore, Keyboard Tester Online is the site that can assist you in testing your keyboard to determine whether all the keys are functional. You may test each of your keys on the keyboard to verify if it is functioning properly on this user-friendly website's virtual keyboard tester.
Go ahead and try keyboard checker online to evaluate your keypad. Moreover, There are some other keyboard tools that you may like: