Use the Mac keyboard tester tool online to test the keys of your Mac devices, this will help you determine which key is faulty!
Esc
F1
F2
F3
F4
F5
F6
F7
F8
F9
F10
F11
F12
⏏
"
'
return
option
command
Spacebar
command
option
How does a Mac Keyboard Tester Work?
You are required to hit specific keys and complete tasks on a Mac keyboard tester before receiving a report. This test reveals if your keyboard is high-quality. Before buying any keyboard, it is always advised to use a keyboard tester. You can choose the greatest keyboard for your money and quality by testing out different models.
Test an Apple Keyboard
Using our online mac keyboard test, you may examine a MacBook keyboard. Try out various keys to see if they function or not and which key is recognized when a key is pressed.
Simply begin clicking the keyboard's keys to begin the test. You can utilize full-screen mode and/or choose another mode for comfort.
To check if your keyboard's keys are functioning properly, press each one.
The system is functioning properly if the keys you touch on your physical keyboard also light up on our virtual keyboard.
Everything will be in order if our tester Keyboard mac shows the response right away on the virtual keyboard. However, if the virtual keyboard just partially reacts, there is a problem.
What if some Keys don't respond?
If you're using an external Apple keyboard and a few of the keys aren't working, you can consider using the keyboard with a different machine to see if the problematic keys function there. Otherwise, the keyboard is damaged. Either you'll need to replace it or have it fixed.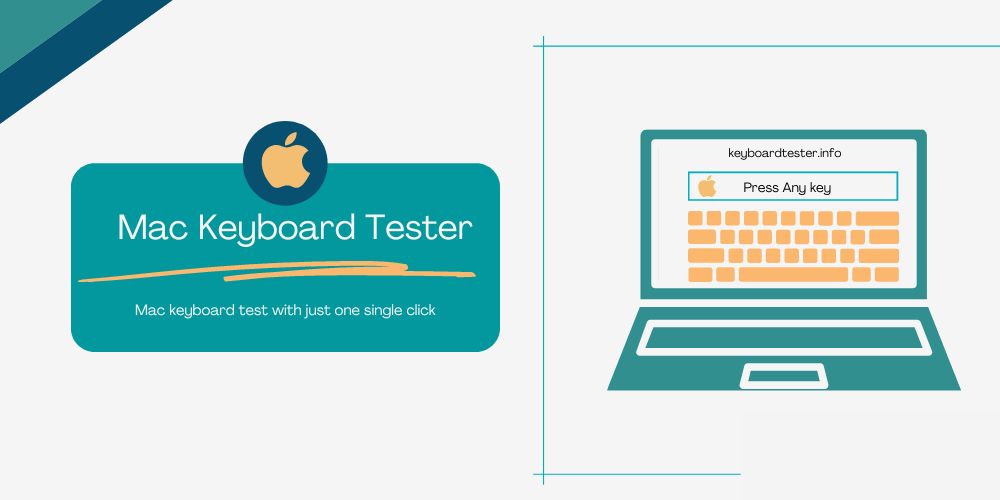 Increase your MacBook typing speed with our Words Per Minute Test!
Benefits of Using the Mac Keyboard Checker?
You'll be able to save time, effort, and money by using Keyboard tester mac. Additionally, you don't need to visit a typical electrical store. We've made it simpler for our customers to investigate the issues that are causing the keys to not work. Take an online test while remaining at home. If still, any problem occurs, see the nearby technician and speak with him.
The Mac keyboard tester is also beneficial because it gives the user freedom of choice. Nowadays, most people utilize keyboards. A steno typist just utilizes the alphabetic buttons, a gamer uses indicator keys only, and a programmer uses all the keys.
To put it simply, keys are necessary for everyone to function. By using the tool, you may maintain your keyboard's functionality without spending any money and without installing any software.
What Causes a MacBook Pro Keyboard to Stop Working?
The most prevalent causes of a MacBook keyboard malfunctioning are dust and other contaminants. Even the tiniest bit of dust contaminants on a Mac keyboard with keys that are based on Apple's butterfly keyboard mechanism can lead to issues. Other impurities, like food and different drinks, can also impair the functionality of a Mac keyboard.
FAQ's
How can I test my Mac keyboard?
Select Show Keyboard Viewer from the menu bar's Input menu on your Mac. Chose System Preferences from the Apple menu, pick Keyboard, click Input Sources, then choose "Show Input menu in menu bar" if the instruction isn't visible.
How do I know if my Mac key is broken?
On the application's launch screen, select "Keyboard Test" to access an on-screen keypad. Test out several keys by tapping them to see if they function or not and which key is recognized when a key is pressed.
Few More Keyboard Tools To Check: