The tool to measure the number of keyboard clicks for various reasons is the keyboard counter, try it out and count the clicks!
Online Keyboard Counter
The key counter is especially intended for those who find it challenging to complete other click tasks.
If the time limit in other click games on this website makes it difficult for you to perform well, then this challenge is the ideal opportunity for you to practice clicking from start and improve it without worrying about the time limit or leaderboard rankings.
Additionally, this counter might assist you in keeping track of other common counting jobs.
How does the Counter Tool Work?
An easy-to-use gadget that counts how many times you successfully hit the spacebar key is an automated keyboard click counter. A spacebar tool's code and software were created by our software developer.
The application precisely calculates the taps you make on the bar.
The trial is time-related, allowing customers to select how long they want the game to last.
All you need to do is tap the bar when you are on the appropriate website.
Additionally, by using this tool and practicing, you can hone and polish your spacebar pushing rate.
Therefore, take part in our gaming competition and ask your friends to join you.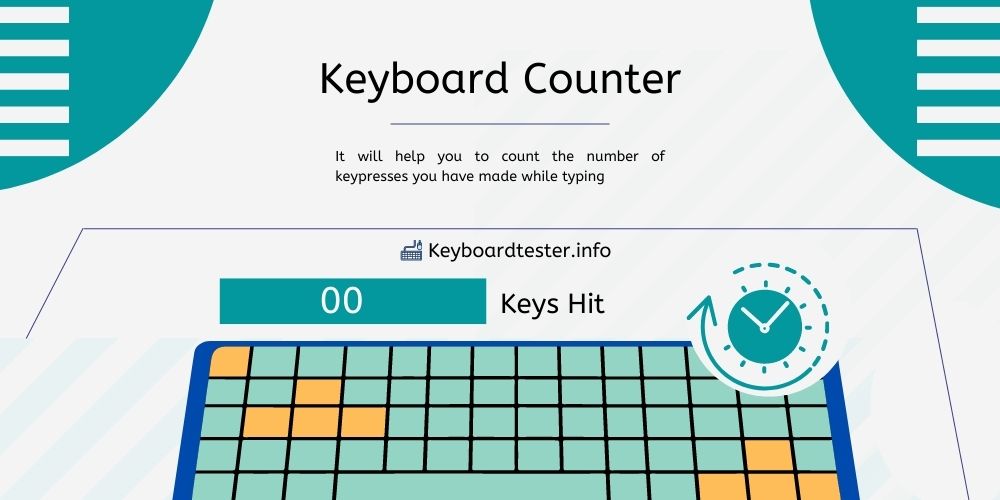 Also Check Out Our WPM Typing Test!
Online Keyboard's Key Counter Features
Calculating your overall clickthrough rate has become very popular. It shows your exact clicks as well as how many more you'll make before the countdown is over. 
The website's compatibility with all browsers, like Chrome, Brave, Opera, Firefox, Safari, Internet Explorer, Mozilla, etc., is another advantage.
Our website can operate without lagging or stopping. You can speed up clicking without being concerned.
You can use our website's keyboard's key counter game feature without creating an account.
This tool's compatibility with mobile devices, which allows users to access the Keyboard Clicker Counter using the same version on the internet, is a key feature.
How Key Counter Help Gamers?
Many websites allow visitors to keep track of how many times they have successfully pressed the spacebar. With time and practice, one can improve their ability to hit the bar more quickly. The median known Spacebar CPS score is 6.27, as per the most recent statistics. So, with a CPS of 8 to 11, a skilled gamer can strike the key faster.
You must tap (push and release your fingers on the keyboard) as quickly as you can within the allotted time to receive a higher score. You can play as often as you'd like to practice. Your tapping speed can be increased by regular workout. On our website, you may quickly and for no charge see your achievement results.
FAQ's
Why keyboard counter is used? 
It is used to keep track of how many mouse clicks you make. We designed this application to be mobile-friendly so that you can use your phone to count clicks. Many users use it to track their steps while working out. It can be used to keep the score even if you're not playing any sports.
What is a key counter?
Try Key Counter if you're looking for a straightforward program that measures job productivity based on total keystrokes and mouse movements. It is an application that not only tracks the keys you use when working on a task but also allows you to see how effective you've been over a period.
Some Tools To Check: